I am collaborating with photographer, Rachael Marshall and installation artist, Maya Ramsay, on the documentation of buildings at Bletchley Park that are to be renovated. Our new blog is here.
We have been granted access to make work in Blocks C and D, previously inaccessible to the public due to their state of repair. Rachael has been photographing the buildings in their current state and will document the renovation process throughout. Maya makes works by lifting pigment debris and texture from surfaces in the built environment and has been working on surfaces in both blocks. I have been capturing sounds within and outside the buildings. Block C in particular is a really challenging environment – many of the ceilings have collapsed and several of the rooms are inhabited by pigeons who fly towards flashlights and head torches!
It is amazing to be granted access and, in spite of their inhospitable states, both blocks are strangely compelling due to their incredible histories. Block C is chiefly boarded up but a skylight near the back of the building has allowed enough light in combination with the damp environment for a "garden" to form. The pigeons seem to have established their individual territories and one in particular spends most of the day hopping around this garden space.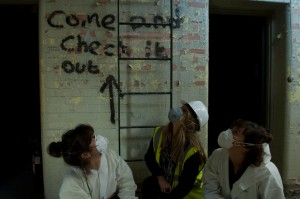 Photo by Rachael Marshall