5 Minute Oscillations of the Sun was an 8 channel sound installation that provided a new way to listen to the acoustic and electromagnetic energy of the Sun. Devine approached the BiSON research team at the University of Birmingham who agreed to provide data on solar oscillations that she then 'sonified'. The natural solar resonances were mixed with naturally occurring radio signals in the VLF range to form a composition that 'oscillated' every 5 minutes between acoustic and electromagnetic modes. Realised with the generous assistance of a GFA award from Arts Council England and the support of MK Gallery, the work was installed in time for the summer solstice of 2012 and ran for seven weeks over the summer.

Sited in an outdoor parabolic dome structure in MK Theatre District, 5 Minute Oscillations of the Sun sought to engage the public with an artwork outside of a conventional gallery setting. Playing daily between midday and 9pm, it could be experienced by anyone walking through the Theatre District during those hours.
5 Minute Oscillations of the Sun was shortlisted for a BASCA British Composer Award (Sonic Arts Category) in 2013.
Honor Harger, director of the Art Science Museum in Singapore discusses Caroline Devine's 5 Minute Oscillations of the Sun for Sounds of Space on the BBC World Service: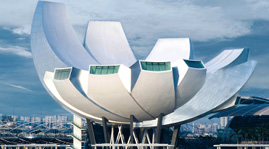 Responses to the work
Just as the cartographers of the past worked hand in hand with artists to illustrate and interpret the new worlds that they found, today the universe is being mapped, visualised and indeed sonified by artists and musicians… Caroline Devine is using the tools and methodologies of science to create poetically charged sensory experiences which are really opening up the hidden dimensions of our nearest star to our ears.
Curator, Honor Harger – Notes from the Universe talk, Lightshow, South Bank Centre
Although I couldn't stay for the full 30 minutes I did capture the essence of the work which I thought was beautiful and quite spiritual.
Emma Wilcox, former relationship manager, Arts Council England
An audio sample of 5 Minute Oscillations of the Sun can be heard on the website for The British Academy of Songwriters, Composers and Authors (BASCA) – British Composer Awards
http://www.britishcomposerawards.com/composer_profiles.php?idc=811&y=2013&u=11&idz=788&w=0
Honor Harger, director of the Arts Science Museum, Singapore discusses Devine's work on BBC World Service:
https://soundcloud.com/caroline-devine/5-minute-oscillations-of-the-sun-by-c-devine-on-bbc-world-service-sounds-of-space