Station X offers a multi-sensory insight into the derelict buildings of Bletchley Park, (otherwise known as Station X), the home of the World War Two code-breakers, and arguably one of Britain's most important historical sites. A unique collaboration between sound artist Caroline Devine, photographer Rachael Marshall, visual artist Maya Ramsay and filmmaker Luke Williams, the work provided a contemporary interpretation of Station X, by documenting the visual and aural histories imbued in the very fabric of the buildings, prior to their renovation.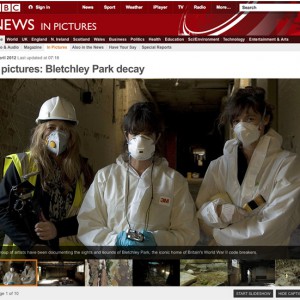 Investigating the silence and absence of sound that is at the heart of Bletchley Park, its buildings and its histories, Devine made recordings of the sounds within blocks C and D over a period of months. In response to the covert communications technologies developed at the Park, she collected signals from beneath the water in the lake as well as electromagnetic emissions from the air surrounding the blocks.
These ordinarily imperceptible signals were made audible and paired with the sound recordings to present one channel of sound 'as the ear hears it' accompanied by its 'ghostly eavesdropping counterpart', that was mediated via technology. Devine conducted an oral history interview with a woman who had worked on the Bombe machines at Bletchley Park between 1942 and 1945 and wove fragments of this story throughout the composition with scrambled oral histories from the Bletchley Park archive. The resultant composition, Carrier Waves, left and right channels was diffused as a 2 channel sound installation through bespoke speakers, printed with photographic images of the pigeons that inhabited the derelict blocks and provided a resonance with the past through their association with carrier pigeons used for wartime intelligence gathering.
Whilst working on the project, Devine attended night classes at Bletchley Park to gain her amateur radio licence. Station X was initially exhibited in MK Gallery Project Space and subsequently relocated back to Bletchley
Press and Media
Station X was well received by the press and gained significant interest, especially from the BBC. Reporter Zubeida Malik visited Bletchley Park to record a feature on the Station X exhibition for BBC Radio 4 Today Programme. The Today feature including an interview with Caroline Devine as well as excerpts from her sound work is available at the following link: http://news.bbc.co.uk/today/hi/today/newsid_9717000/9717298.stm
The BBC also featured Station X on their news homepage of 30 April 2012 in an article called In Pictures: Bletchley Park decay is available at the following link: http://www.bbc.co.uk/news/in-pictures-17879181
Devine was interviewed at Bletchley Park by BBC 3 Counties Radio, available on the MK Gallery website at the following link: http://www.mkgallery.org/news/article/2012_04_27/station_x/
Devine had chosen PMC speakers for diffusion of the work. PMC promoted their sponsorship of the exhibition on their website
http://pmc-speakers.com/news/pmc-station-x-it%E2%80%99s-enigma
Articles about the exhibit appeared in a number of audio trade magazines and AV interactive magazine ran a feature about Station X, Devine's recording and production processes and her sponsorship by PMC speakers.
http://www.avinteractive.com/news/pmc-loudspeakers-used-at-station-x-exhibition-at-bletchley-park-01-05-2012/
Further information about Station X is available on MK Gallery website along with a short film by filmmaker, Luke Williams that includes some of Devine's sound recordings. http://www.mkgallery.org/education/projectspace/station_x/
Station x featured in the da-Zed guide to surveillance in Dazed and Confused Magazine
http://www.dazeddigital.com/artsandculture/article/16953/1/the-da-zed-guide-to-surveillance